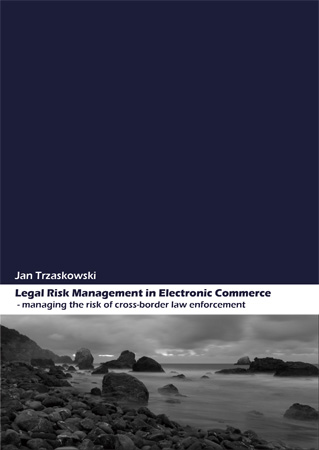 Paperback: 254 pages (17 October 2005)
Publisher: Ex Tuto Publishing, Denmark
Language: English
ISBN: 87-991018-0-7
List Price: EUR 45 + VAT (DKK 340 + moms)

Ex Tuto Publishing (Ex Tuto ApS)
Ved Amagerport 4
DK-2300 Copenhagen S
Phone: (+45) 25 37 02 05
sales@extuto.com
---
DESCRIPTION | HYPOTHESES | TABLE OF CONTENTS | READ THE BOOK BEFORE BUYING
The book elaborates on the following hypotheses:
Activities on the Internet are subject to geographical borders, and it is possible to identify factors that are relevant in assessing where activities on a website are directed.
Private parties are better able to carry out traditional cross-border law enforcement than public authorities.
The freedom to provide goods and services in combination with the 2000 E-Commerce Directive restricts the possibilities of cross-border law enforcement (both public and private law enforcement as well as traditional and alternative law enforcement).
Law enforcers established outside the Internal Market have limited access to traditional cross-border law enforcement against the Business, whereas alternative cross-border law enforcement can be applied.
Businesses can mitigate the risks of cross-border law enforcement by applying geographical delimitation and by entering into agreements on forum and applicable law.
The laws of the Internal Market limit the Business's possibilities in applying geographical delimitation.